Member Update Email Sent June 6, 2020
Dear Member:
As we get closer to reopening there is lots of info to share and I'm doing my best to make things clear and safe for you.  So, Here we go!!!
---
Double Diamond Open House
Saturday & Sunday, June 6-7
8am – 6pm
Check out the new Club and say hello. This is a simple Open House – no food, drink or music. Just a friendly way to reopen the Club and ease back into operations. Stop by, check it out, hit the road!

BRING FACE COVERING AND DON'T HANG OUT IN GROUPS

No workouts during the Open House
---
Membership Dues and Free Month

Thanks to all Members who paid Club dues during the first month of shutdown.  Your trust and generosity (along with the PPP Loan!) allowed us to pay our Team throughout the shutdown.  

We will resume charging Membership Dues starting June 10th on your normal billing date.  For Members on a monthly billing there will be a one time pro-rated charge to get club restart date and regular billing date sorted out.

When will you get your Free Month?
Term Memberships (usually 12 or 24 months) will get a free month added to the end of your membership by extending the renewal date out by 1 Month.

 Month to Month Memberships will receive a Free Month spread over the next 6 months.  Sorted by the first letter fo your last name.
 A-D July          E-H August         I-L September
M-P October    Q-T November       U-Z December  

If you have questions regarding billing – Contact Us
---
Club Opens for Workouts
Monday, June 8th   5am

Fitness Floor & Cardio Deck Only

Per WCHD: The following amenities will NOT be available: Pool, Hot Tub, Racquetball, Locker Changing Areas, Steam, Sauna, Drinking Fountains

Thermal Scanning, Mask and COVID Waiver Required at Check In

COMPLETE REOPENING INFO AND GUIDELINES
---
Face Masks at the Gym?!

Communist Plot or Sensible Precaution???


Washoe County Health District has MANDATED face covering for ALL Staff and Members in the Club

While there are differing opinions on the importance of wearing a face mask, I think its important to follow the WCHD  guidelines and err on the side of caution. 

We know some members may find this inconvenient or objectionable.  This is not simply a matter of personal choice; a face cover protects not just the wearer, but others too.

Washoe County Fitness Center Guidelines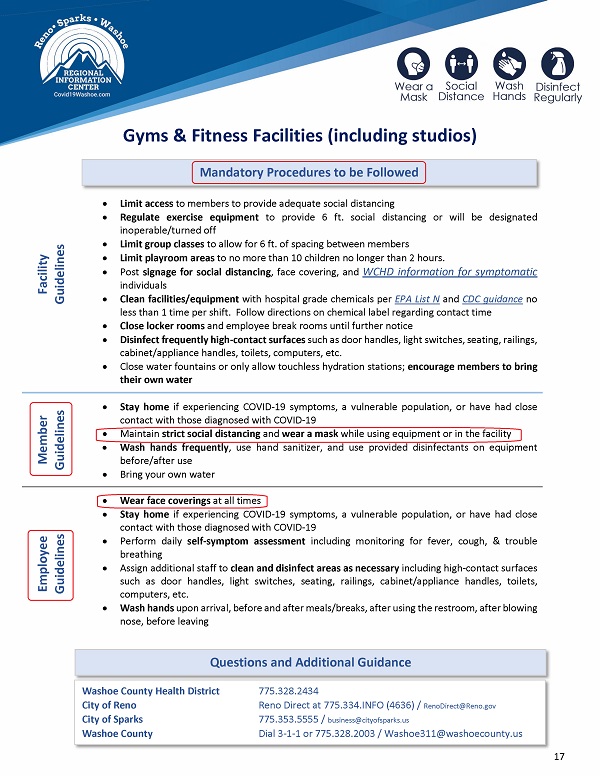 ---
Group X – Kids Klub – Pilates
Launch Monday, June 15th
MORE INFO TO COME EARLY NEXT WEEK


Group X Classes will be First Come, First Served.  Big Studio limited to 18 Members, Cycle Studio limited to 10 Bikes.

We will release a modified Group X Schedule next week as we increase time between classes for additional cleaning and ventilation

These restrictions are temporary.  We WILL get back to normal ASAP
 
We are awaiting guidance on Pool, Racquetball and Kids Fitness Programs. 
Stand by for news.
---
What are we doing for your safety?
Cleaning and sanitizing the Club throughout the day
Additional sanitizing and wipe stations for Members
Increased spacing of equipment
Thermal scanning on entry 
Improved HEPA Filters in HVAC
Increased fresh air intake in HVAC
Contactless member check-in
COVID-19 training and PPE for Staff
No Touch Fauctets and Soap Dispensers
Coming Soon:
UV Light Sterilizing for HVAC System
Improved Thermal Scanning for Members
No Touch Automatic Doors
---

---
Questions or feedback, please email me: mike@ddaconline.com

Mike Shirley
Owner, Double Diamond Athletic Club
(775) 851-7171